I guess Dingo flirting no longer works for getting locals to write up the run. Either that, or she just forgot to ask. Since I'm crashing on her floor, I figured I could oblige.
The P trail from Ravenscourt Park should have given everyone an inkling of what to come. I think the hare, Called Away, actually got lost setting the P trail, it seemed to meander through parks, neighborhoods, businesses, until finally getting to the pub, which was actually around the corner from Stamford Brook. I was disappointed the bouncy slide and kiddie pool weren't on the course.
A good-sized pack turned up, including visitors from Belgium, the GM from Saigon (bringing along her very own vi6gin), and a few other exotic locale, who I forgot. Called Away talked about the trail and kept rambling about tide tables and river crossings. What a wan6er. There was no water crossing on the trail, or drink checks for that matter, which would have been welcome in the heat. For a little while, I thought I was back in Cairo, except for the distinct lack of sand.
The pack took off, only to discover that every other mark on the trail was a check. The hare seemed to place them at every intersection that had at least five options. Most of the pack was happy to just let a few of the keen hashers run up and down side streets. We ran under some roads and found ourselves in Chiswick Park, where we scampered through bushes but never ran to actually look at the famous house. Stayover did point out a couple rolling around in some bushes we ran past – trust him. I vaguely recall running through some other parks and neighborhoods, but I really don't remember all the details, since by that point I was hallucinating from the heat.
Eventually, the pack made it back to the pub, where we took over the garden area. Plug called out people for various crimes, but I had already downed at least three pints in an effort to rehydrate and don't remember any of the crimes. I am told it was Rent Boys 50th bday. Also, late in the circle, there was an attempt to rename Skylark something about eating bushes, since he not only fell into some during the run, but attempted to pull two harriettes in with him. Naughty boy!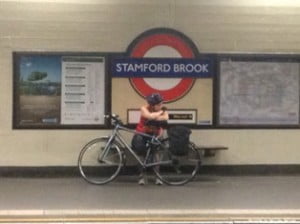 As the hashers departed for the tube, All Fours assured everyone that she was perfectly capable of cycling home…that is, until she was unable to turn on her light and hit the curb at the end of the block. She was ordered to dismount and was escorted to the station. Last we knew, she was still sleeping as she awaited her train. (attached)
On on!
Hot 'n' Juicy (Cairo H3)